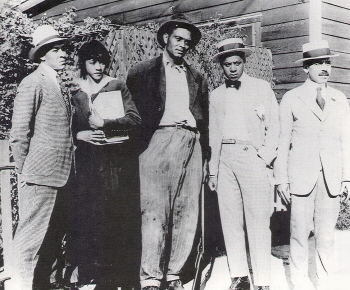 As I dig around in the past, my friendly phrase for endless hours of research for my current work in progress, I keep finding new things. Recently, while I'd been focusing a lot of energy on Oscar Micheaux, arguably one of the first successful black filmmakers, I found he wasn't the first African-American to make films for black audiences. The first was a production company in Omaha, Nebraska called The Lincoln Motion Picture Company. It was found in 1916 by brothers Noble and George Johnson. (They eventually relocated to Los Angeles).
But since my roots are in Chicago😎 (kind of:), I had to find a black motion picture company in that town back in the day. There were several, but the Foster Photoplay Company (William D. Foster) was one of the first and based in Chicago, and founded in 1906. He made a number of race films  in a few short years before his company folded.
From 1909 – 1913 William Foster produced the first all black cast film shorts, i.e.The Pullman Porter 1910 & The Railroad Porter 1912. Because of distribution problems he eventually folded the operation.
What is a "race" film?
According to some, William Foster may have produced, written, and directed the first race movie, that is, the first film produced for a black audience featuring an all-black cast and crew.
If you have "Prime" on Amazon, take a peek at the 1932 film by Micheaux. Click here.