Lil Hardin Armstrong (photo above)
There are a handful of female jazz artists who have been called the "First Lady of Jazz".
Born Mary Elfrieda Scruggs, May Lou Williams was a jazz pianist who went on her first tour in 1924 at the age 14. But she started earning money playing at parties at age six.
Ella Fitzgerald was known as "The First Lady of Song, Queen of Jazz, Lady Jazz". Her first major debut as an amateur was in 1934 at the Apollo Theater (New York City) at the age of 17.
I like to dabble in the 1920s and Chicago.
Lillian Hardin was a jazz piano player in the 1920s with King Oliver's Creole Jazz Band. In 1922, a new trumpet player joined the group, a young, shy kid from New Orleans, named Louis Armstrong. Lil and Louis had a romance and Louis divorced the wife he'd left behind in New Orleans and married Lil, February 4, 1924.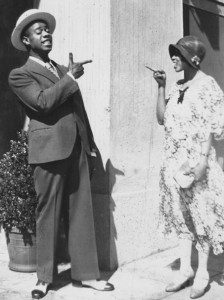 Near the end of 1925, Lil had her own band, the Dreamland Syncopators, featuring the World's Greatest "Jazz Cornetist", Louis Armstrong. The promotion was her idea, and she is credited with having "inspired, encouraged, and helped" Louis Armstrong go out on his own.
Lil was a female "instrumentalists" who worked with otherwise all-male bands when jazz women usually played with all-female bands.